James Brown Management
Zlata Chochieva joins the Artist roster of the newly announced James Brown Management for General Management.
https://www.jamesbrownmanagement.com/
Online-Stream of the Berlin Piano Festival in the Konzerthaus Berlin
We await you on the digital stage of the Berlin Piano Festival in the Konzerthaus Berlin. There will be a new video every day available from midnight to midnight.
https://berliner-klavierfestival.de/
Jessica Duchen speaks to the Russian pianist Zlata Chochieva, who is taking the music world – and the Chopin etudes – by storm!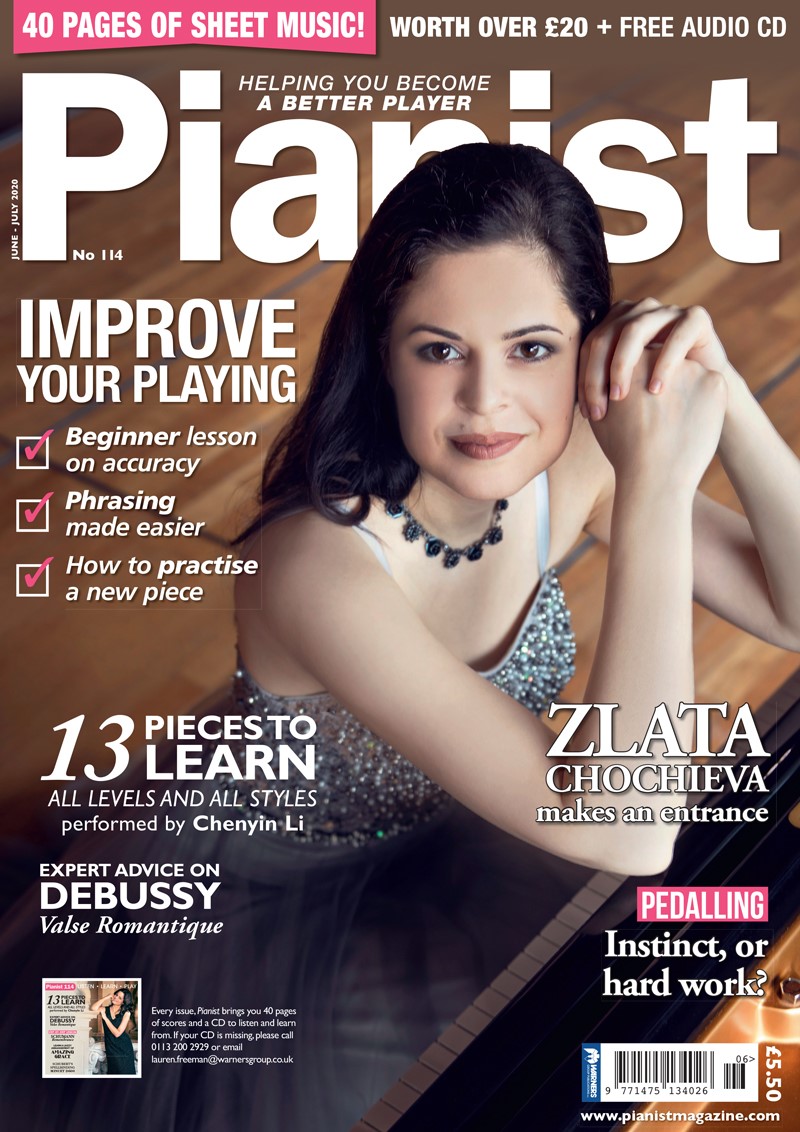 Zlata Chochieva is the Pianist magazine cover star. Get your copy here to read her full-length interview:
https://www.pianistmagazine.com/store/back-issues/pianist/pianist-114-jun20-issue-146-1
Watch Zlata's "Concert in Quarantine" from Schinkel Pavillon produced by Jan Schmidt-Garre and Naxos Audiovisual Division
Recent review by Geoffrey Newman for Seen and Heard International: "Zlata Chochieva's unique Chopin and Rachmaninoff arrive in Vancouver"
«I can think of few finer piano recitals than this. Chochieva never attempts to endow the music with extra drama or interpretation: she just reveals her personal struggle to expose the music as it is. Her probing honesty and imagination place the listener in a multi-layered emotional world which is both evolving and immediate, and one simply feels impelled to follow her». Read more: https://seenandheard-international.com/2019/11/zlata-chochievas-unique-chopin-and-rachmaninoff-arrive-in-vancouver/
Zlata Chochieva joins BBC Scottish Symphony on February 6 & 9 to perform Chopin Piano Concerto No. 1
Zlata Chochieva joins BBC Scottish Symphony at the Usher Hall and Glasgow City Halls to perform Chopin Piano Concerto No. 1 with conductor Karl-Heinz Steffens. https://www.bbc.co.uk/events/ed4mzc
Aachen Symphony Orchestra appoints Zlata Chochieva as 2019-20 season "Artist in Focus"
This role sees her play in five concerts under the baton of Christopher Ward. The programme includes Rachmaninoff's Piano Concerto No. 4, Liszt "Malediction" and Beethoven's Triple Concerto with Nicolas Dautricourt and Per Nyström.
Zlata Chochieva named 2019-20 "Serate Musicali" Artist-in-Residence
After performing twice in the "Serate Musicali" series in Milan, Zlata Chochieva has been appointed its new "Artist in Residence" from 2019/20
Chochieva at Wigmore Hall
Zlata Chochieva will give her Wigmore Hall debut this week, in a programme of works by Chopin, Scriabin, Liszt and Rachmaninov on 26th March. It includes Rachmaninov's 1st piano sonata Op.28, a rarely performed pianistic masterpiece that had first brought Chochieva to international attention when she recorded it for Piano Classics.
For more information click HERE.