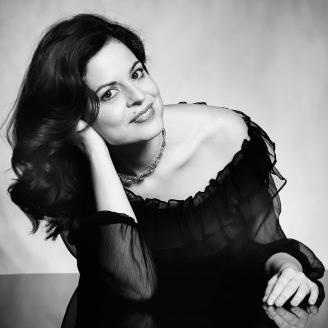 Photo Credit: Uwe Arens
"I can think of few piano recitals finer than this"
(Seen and Heard International)
Writing in Gramophone of Zlata Chochieva's sensational recording of the Chopin Etudes, being included in Gramophone's list of 10 greatest Chopin recordings, critic Jeremy Nicholas exclaimed, "it is certainly one of the most consistently inspired, masterfully executed and beautiful-sounding versions I can recall."
In the 2023/24 season, Zlata Chochieva will make her New York debut performing recitals at Rockefeller University Wednesday Caspary Auditorium Series and at New York's legendary Town Hall presented by People's Symphony. Other U.S. performances on this tour include Duke University Piano Series, Lee University, San Francisco Herbst Hall, Friends of Chamber Music Miami, and Portland Ovation Series. After her debut at Hamburg's Elbphilharmonie with Hamburger Camerata last April, Zlata returns to Elbphilharmonie in recital. Other European performances include recital at Konzerthaus Berlin, debut at Laeiszhalle, Bach Keyboard Concerti at Sala Verdi Milan and performances at Leif Oves Andsnes Rosendal Chamber Music Festival.
In September 2023 Zlata will perform and speak about Rachmaninoff at his Villa Senar in a project titled "The Alchemy of the Piano" by German film producer Jan Schmidt-Garre.
At only four years old, Zlata made her first stage appearance and just three years later, gave her debut with orchestra performing a Mozart Concerto at Grand Hall of Moscow State Conservatory. Since then, she has given concerts in Herkulessaal Munich, Concertgebouw Amsterdam, Philharmonie de Paris, Wigmore Hall, Teatro La Fenice in Venice, Konzerthaus Berlin, Elbphilharmonie Hamburg, Victoria Hall in Geneva, Tivoli Concert Hall in Copenhagen, Casa da Música Porto, the Grand Hall of Moscow Conservatory, and Taiwan's National Kaohsiung Center for the Arts. She has performed with numerous major orchestras, including Russian National Orchestra, Russian State Symphony Orchestra, BBC Scottish Symphony Orchestra, Copenhagen Philharmonic, Munich Chamber Orchestra, and Orchestre Philharmonique de Nice. Conductors Zlata has enjoyed working with include Mikhail Pletnev, Simon Gaudenz, Terje Mikkelsen and Tugan Sokhiev.
Along with an orchestral repertoire of over 50 concerti, Zlata Chochieva is a devoted chamber music performer having worked with Stephen Kovacevic, Lynn Harrell, Gilles Apap, and Jacquelyn Wagner, among others.
Recording exclusively for Naïve Records, her most recent release, "Im freien" was selected by Gramophone as an "Editor's Choice" for June 2023. Her first recording for Naïve, "Chiaroscuro" (May 2022), a combination of Mozart and Scriabin coinciding with the 150th anniversary of Scriabin's birth, was crowned a Critic's Choice in International Piano Magazine. Her "(re)creations" disc, recorded during the pandemic on Accentus (a collection of piano transcriptions by Rachmaninov, Liszt, and Friedman), won a prestigious German Record Critics' Award.
Zlata Chochieva was born in Moscow and now resides in Berlin. A protege of Mikhail Pletnev at Central Special Music School, she also studied with Pavel Nersessian at Moscow State Conservatory. She completed her studies at Mozarteum University of Salzburg with Jacques Rouvier and was subsequently his assistant for several years. In 2018 Zlata established the International Festival at Rachmaninov's estate in lvanovka and serves as its Director.
2023/2024
Please do not make any changes, omissions or additions, unless authorized by artist management.