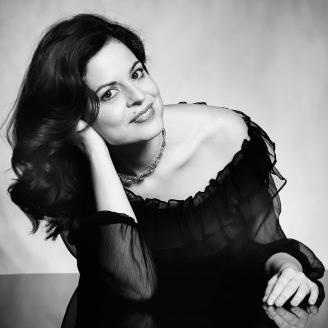 Bildnachweis: Uwe Arens
In seiner Gramophone-Rezension zu Zlata Chochievas sensationeller CD-Einspielung von Chopins Etüden, die 2017 in die Gramophone-Liste der Top 10 Chopin recordings aufgenommen wurde, behauptete der Musikkritiker Jeremy Nicholas, es sei "sicherlich eine der durchweg inspiriertesten, meisterlich ausgeführten und am schönsten klingenden Versionen", an die er sich erinnern konnte.
In der Saison 2023/24 wird Zlata Chochieva ihr Debüt in New York feiern, wo sie an der Wednesday Caspary Auditorium Serie der Rockefeller University und Peoples' Symphony Concerts der legendären New-Yorker Town Hall teilnehmen wird. Im Rahmen ihrer amerikanischen Tour wird sie auch in Durham (Duke University Piano Series), Cleveland (Lee University), San Francisco (San Francisco Herbst Hall), Miami (Friends of Chamber Music Miami) und Portland (Portland Ovation Series) zu hören.
Ihrem Debüt in der Hamburger Elbphilharmonie mit der Hamburger Camerata im vergangenen April folgend, wird Zlata in der kommenden Saison in die Elbphilharmonie mit einem Rezital zurückkehren. Weitere europäische Konzerttermine Zlatas werden Auftritte in Berlin (Berliner Konzerthaus), Hamburg (Debüt in der Laeiszhalle), Mailand (Bach-Klavierkonzerte im Sala Verdi) und Rosendal (beim Leif Ove Andsnes' Rosendal Chamber Music Festival) umfassen.
Zur Eröffnung ihrer Konzertsaison, im September 2023, wird Zlata in Rachmaninows Villa Senar in Hertenstein gastieren, wo sie im Rahmen des Projekts "Die Alchemie des Klaviers" des deutschen Filmproduzenten Jan Schmidt-Garre Rachmaninows Werke interpretieren und kommentieren wird.
Mit nur vier Jahren trat Zlata zum ersten Mal auf der Konzertbühne auf. Bereits drei Jahre später genoss sie ihr Orchesterdebüt mit einem Konzert Mozarts im Großen Saal des Moskauer Staatlichen Konservatoriums. Später, als international anerkannte Pianistin, spielte sie in diesem Saal mehrmals wieder. Zu hören war sie auch im Herkulessaal München und Concertgebouw Amsterdam, in der Philharmonie de Paris und Londoner Wigmore Hall, im Teatro La Fenice in Venedig und Konzerthaus Berlin, in der Elbphilharmonie Hamburg und im Victoria-Saal in Genf, im Tivoli-Konzertsaal in Kopenhagen, Casa da Música Porto und Taiwans National Kaohsiung Centre for the Arts.
Sie kooperierte mit zahlreichen großen Orchestern, darunter mit dem Russischen Nationalorchester und Russischen Staatssymphonieorchester, BBC Scottish Symphony Orchestra, den Kopenhagener Philharmonikern, dem Münchner Kammerorchester und dem Orchestra Philharmonique de Nice. Zu den Dirigenten, mit denen Zlata zusammenarbeitete, gehören Mikhail Pletnev, Simon Gaudenz, Terje Mikkelsen und Tugan Sokhiev.
Zlatas Repertoire umfasst sowohl Orchester- (mehr als 50 Solokonzerte) als auch Kammerwerke. Im Rahmen ihrer Tätigkeit als Kammermusikerin kollaborierte sie mit Stephen Kovacevic, Lynn Harrell, Gilles Apap und Jacquelyn Wagner.
Chochievas jüngste CD-Einspielung "Im Freien", die sie exklusiv für Naive Records aufnahm, wurde im Juni 2023 mit dem Gramophone Editor's Choice Award ausgezeichnet. Ihre erste Aufnahme fürs Naive Label, "Chiaroscuro", eine einzigartige Kombination aus Kompositionen Skrjabins und Mozarts, die im Mai 2022 anlässlich des 150. Geburtstags von Skrjabin erschienen ist, wurde vom International Piano Magazine mit dem Critic's Choice Award gekrönt. Die Sammlung von Klaviertranskriptionen Rachmaninows, Liszts und Friedmans, die während der Pandemie unter dem Titel "(re)creations" beim Accentus Label veröffentlicht wurde, gewann den renommierten Preis der Deutschen Schallplattenkritik.
Zlata Chochieva wurde in Moskau geboren und lebt heute in Berlin. Sie war Mikhail Pletnevs Protegé an der Moskauer Zentralen Musikschule; später studierte sie bei Pavel Nersessian am Moskauer Tschaikowsky Konservatorium. Ihr Studium schloss sie an der Universität Mozarteum Salzburg bei Jacques Rouvier ab und war anschließend mehrere Jahre seine Assistentin.
Im Jahr 2018 gründete Zlata das Internationale Festival im Rachmaninow-Museum Iwanowka und ist nun als dessen Direktorin tätig.
2023/2024
Please do not make any changes, omissions or additions, unless authorized by artist management.